#1 NAME FOR EB-5 INVESTMENT VISAS
Sign-Up for Your FREE EB-5 Investment Planning Session Now.
Behring Co. is introducing an all

NEW EB-5 POLICY

with new investment amounts, job creation requirements, and more.
The most comprehensive EB-5 planning session ever created.
At the end of our EB-5 Investment Planning session, you will learn:
Why Behring is the most trusted name in EB-5 Investment
Here is why Behring has been chosen by hundreds of Investors, Immigration Attorneys and Brokers from over 26 countries.
Successful EB-5 Track Record
Our management team has over $15 Billion in real estate experience and perfect EB-5 approval history.
Over $800 million in EB-5 Projects since 2013

100% USCIS approval history

Over 5,000 EB-5 jobs created

Over 200 Investors from 26 Countries
EB-5 Industry Leadership & Innovation
Behring is world famous for its projects, strategies and a court case that saved the EB-5 industry.
1st EB-5 firm to create EB-5 offerings systematically focused on residential construction with guaranteed job creation (2013)

1st EB-5 firm to develop installment payment options (2017)

1st EB-5 firm to offer customizable investment options (2018)

1st EB-5 firm to provide a licensed lending company to help finance EB-5 investors initial investments (2019)

1st EB-5 Regional Center to provide an Integrity Pledge, the EB-5 industry's highest commitment to transparency, responsibility and investor trust ever issued

Successfully litigated USCIS to vacate the 2019 Modernization Regulations and save the EB-5 industry (2021)
Institutional quality residential real estate investments located in the San Francisco Bay Area and Silicon Valley.
Choose between residential apartments, student housing, mixed-use construction projects where construction completion and job creation are guaranteed.
Customizable EB-5 Investment Options
Behring knows that every investor is different and needs a unique solution with customized risk and return profiles.
DEBT STYLE

Max Protection

I desire a green card with as little investment risk as possible.

Protections

Predictability

Profit Potential

PREFERRED EQUITY

Basic Income

I prefer balance between a green card and a return on investment.

Protections

Predictability

Profit Potential

COMMON EQUITY

Wealth Builder

I desire a green card while potentially growing substantial wealth over time.

Protections

Predictability

Profit Potential
Market Leading Protections & Guarantees
Behring knows how to structure investments to minimize risk while protecting returns.
Corporate Repayment Guarantee

BRC loan style investments require repayment guarantees, promissory notes or other sufficient security for EB-5 partnerships

Construction Completion Guarantee

We require construction completion guarantees on all projects to ensure proper delivery of the project

Job Creation (Indirect) Guaranteed

Construction & indirect job creation (RIMS-II) alone meet 100% of the job creation

Fully Committed

Investments are moving forward, already under construction or have arrangements to ensure construction will begin

I-526 Money Back Guarantee

Your I-526 petition will be approved or you are refunded 100% of your capital investment and fees
Access our entire library of over 10 Free EB-5 investor resources and presentations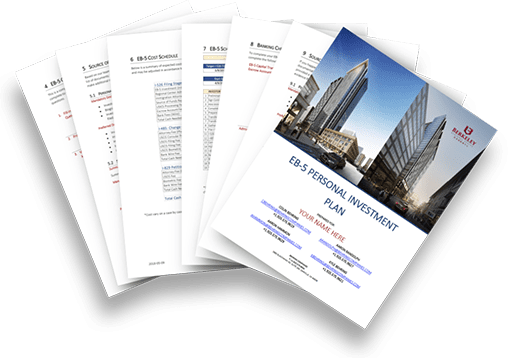 Get in touch with our team to further understand how you can build your wealth through our investments.
Real Estate Investing with Behring
Behring EB-5 Introduction and Company Overview - PIP Page (June 2022)
Stay up to date on the EB-5 Regional Center Program's Reauthorization